The World's Most International Company
Would you like to be part of the most international company in the world? A company that pioneered cross border express shipping in 1969 and now operates in more than 220 countries and territories worldwide. Would you like to be part of a business that connects people across the globe? And the more we connect, the better life on Earth becomes. Do you want to make a difference? Then scroll down to find out more about DHL Express and our 'Insanely Customer-Centric' culture.
OUR CULTURE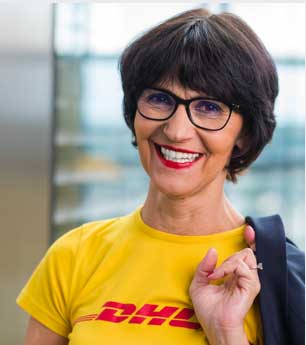 At DHL Express, motivating our people is priority number one because we count on every one of our motivated superstars to deliver great service and drive our "Insanely Customer Centric" culture. Being ranked among the world's best employers by reputed external organizations such as Great Place to Work and Top Employers Institute is a great acknowledgment of the effort we have invested in making DHL Express a place where our employees can enjoy coming to work, be appreciated for their contribution, develop professionally and realize their full potential.

Regine Buettner, Executive Vice President, Global end Europe HR, DHL Express.
Our Motivated People
Speed, passion and a "can do" attitude. Our motivated people are energized and there 'ain't no mountain high enough' to stop them from delivering. Every amazing individual we hire has a unique story to tell, but they all share something in common: they strive to have their 'best day, every day' and delight our customers. That's why they are the Superstars of the International Express Industry. Here are just a few examples of who you could work with at DHL Express.
Our Purpose: Connecting People. Improving Lives.
We connect people and improve lives. We accomplish this by bringing people and businesses, from every corner of the world, closer together with fast and reliable shipments. In addition, we embrace sustainable solutions and often put our expertise to use to give back to those who need our help the most.
Our Business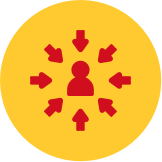 Customer Centric
World-class service is engrained into every one of us, here at DHL Express. Every day, we remind ourselves that our customers' satisfaction is directly responsible for our success. This spurs us on to get it right first time, every time.
International Focus
We speak your language. The emphasis we place on diversity and specialist knowledge makes us a leading force on every continent across the globe. We come from every background imaginable and share a unified goal.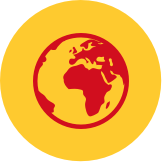 Global Network
Each of us plays an essential part in The Big Yellow Machine. Together, we make up the most sophisticated logistics service in the world. The result? A simpler life for our customers, and a globally respected reputation for us.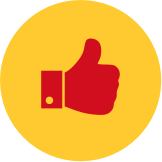 My Commitment
Extraordinary individual performances are what we depend on. Every single DHL Express employee is committed to having their best day, every day. We excel at motivating ourselves and encouraging our colleagues to do the same.
Job Categories
Ready to join our team? Search for openings in your area.
Operations
The complete courier? A worthy warehouse operative? You belong here. Our diverse range of operations roles form a respected cornerstone of our business.
View Jobs
Customer Service
If you're passionate about people, you'll find plenty of opportunities to progress at DHL Express. You just need to maintain that energy and be a dedicated problem-solver.
View Jobs
Finance
Our global multi-billion-dollar enterprise provides challenging roles for even the most capable financial minds. We offer responsibility you can be proud of.
View Jobs
IT
It takes some of the most innovative and comprehensive IT systems on earth to keep our core functions running. Work with some truly phenomenal technology.
View Jobs
Sales
The customer is king! Our sales teams live by this mantra and are never satisfied until every customer is happy. This is what you need to grow.
View Jobs
HR
A driven and exciting working environment is essential to us. So we look for HR experts who can spot incredible talent and every one of our teams thrive.
View Jobs
Our Awards
Our work culture is built on respect, recognition and equal opportunities for all. In fact, we've received many awards for our work culture, including: